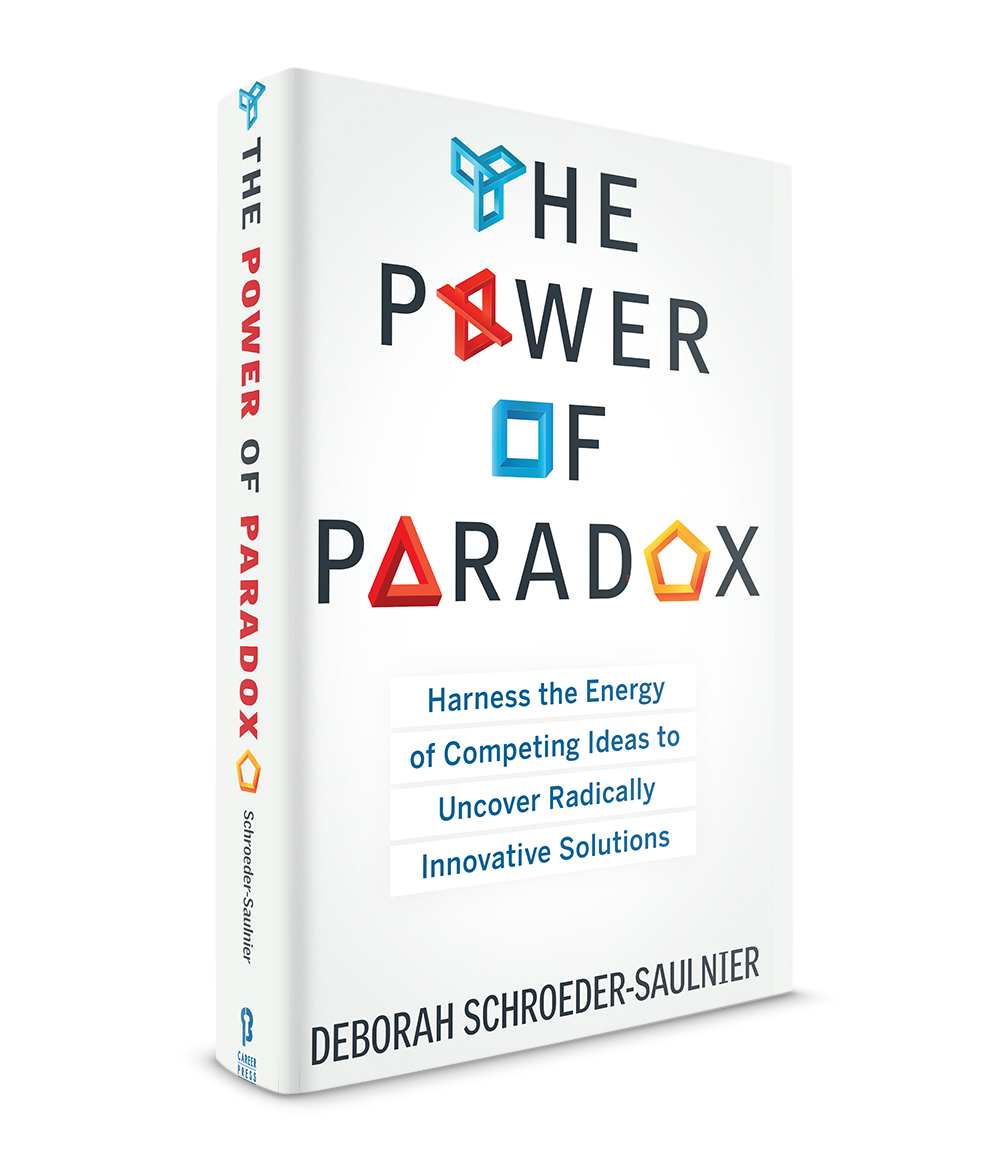 BUY THE BOOK
RESOURCES
Complimentary Template
Get the complimentary The Power of Paradox Downloadable and Editable Template to use with the book. Read the Instructions and Download the PDF.
See Inside the Book
Courtesy of Amazon.com
OVERVIEW OF THE BOOK
The Power of Paradox: Harness the Energy of Competing Ideas to Uncover Radically Innovative Solutions provides a new and counterintuitive way to solve problems.
Should your company pursue global expansion or mine local opportunities?
Take risks to grow dramatically or protect your current stability?
Seek to maximize sales or the bottom line?
Schroeder-Saulnier's book takes readers through a dynamic, critical-thinking process to help leaders and businesses unlock innovative solutions to entrenched business problems. She breaks through either-or thinking to help businesses make better decisions.
"The Power of Paradox insightfully guides one on navigating through a world where black and white solutions rarely exist. – Ward Klein, CEO, Energizer Holdings, Inc."
Who Should Read It?
CEOs, entrepreneurs, managers, human resource leaders, or anyone interested in learning how to balance conflicting objectives to reach breakthrough solutions.
What Will it Teach Me?
In business, inherent tensions are mistakenly viewed as problems to be resolved once the "correct" answer is found. But if only one direction is considered—either A or B—only part of the picture is visible. The best and most innovative solutions are frequently realized not by choosing one option rather than another, but by pursuing two contrasting options at the same time—the both/and option.
"Paradox thinking enables balanced management of conflicting objectives," says author Schroeder-Saulnier.
Taking readers through the same steps she's used to help Fortune 500 companies such as Scottrade, Georgia-Pacific, and Boeing, Schroeder-Saulnier details the dynamic critical-thinking process anyone can use to define the strategic tensions within his or her organization, identify the potential of seemingly conflicting options, and develop action steps to maximize the benefits of each.
"Deborah Schroeder-Saulnier will give you the right advice to make your business flourish. You will get all the information you need in The Power of Paradox.
– Lori Jacob, president and CEO, Junior Achievement of Greater St. Louis, Inc."
Why Should I Buy It?
Transcend either/or thinking to uncover radical new solutions, unlock new perspectives and maximize your organization's potential. "When you begin to think in terms of 'and,' you have a powerful tool for solving problems and achieving goals," states Schroeder-Saulnier.
Complete with detailed case studies and examples of companies that achieved a competitive advantage with this breakthrough strategy, The Power of Paradox will help executives face chronic challenges with confidence and uncover unexpected and infinitely better solutions.
"The Power of Paradox will challenge you to think more critically than you normally do…which will ultimately improve your business. – Jim Kavanaugh, CEO, World Wide Technology, Inc. (WWT)"